This post is sponsored by Cost Plus World Market. All opinions are all my own.

I don't know about you, but I'm crushing on all things Llama these days!
Golden​ ​Llama​ ​Treasure​ ​Hunt
Find​ ​a​ ​Golden​ ​Llama​ ​and​ ​receive​ ​a​ ​coupon​ ​valued​ ​at​ ​$20,​ ​$50​ ​or​ ​$100!
Over​ ​$1​ ​Million​ ​in​ ​Total​ ​Rewards!
How​ ​to​ ​play:
Every​ ​day​ ​beginning​ ​Wednesday,​ ​November​ ​1st​ ​through​ ​Wednesday,​ ​November
22nd,​ ​your​ ​local​ ​Cost​ ​Plus​ ​World​ ​Market​ ​store​ ​will​ ​hide​ ​5​ ​Golden​ ​Llama​ ​pieces
throughout​ ​the​ ​store.
Each​ ​day,​ ​we'll​ ​share​ ​the​ ​daily​ ​clue​ ​in-store,​ ​via​ ​email​ ​and​ ​on​ ​our​ ​social​ ​media
channels.​ ​Use​ ​the​ ​clue​ ​to​ ​help​ ​you​ ​find​ ​a​ ​Golden​ ​Llama​ ​and​ ​you​ ​could​ ​receive​ ​a
reward.
Locate​ ​(1)​ ​Golden​ ​Llama​ ​piece​ ​and​ ​bring​ ​it​ ​to​ ​the​ ​nearest​ ​store​ ​associate​ ​to
exchange​ ​for​ ​a​ ​reward​ ​coupon​ ​valued​ ​at​ ​$20,​ ​$50​ ​or​ ​$100.​ ​Reward​ ​is​ ​valid​ ​only​ ​on
the​ ​day​ ​it​ ​is​ ​awarded.
*Limit​ ​one​ ​(1)​ ​reward​ ​per​ ​person​ ​throughout​ ​the​ ​Promotion​ ​Period,​ ​regardless​ ​of​ ​store
location(s)​ ​visited.​ ​EMPLOYEES​ ​NOT​ ​ELIGIBLE.​ ​See​ ​Terms​ ​of​ ​Participation​ ​for​ ​complete
details.
For full rules go to: www.worldmarket.com/hunt.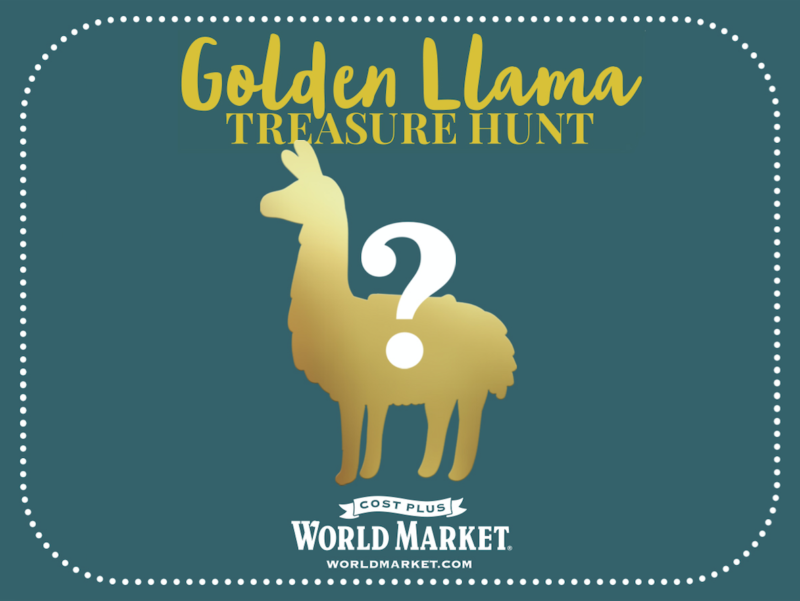 AND for the very first clue!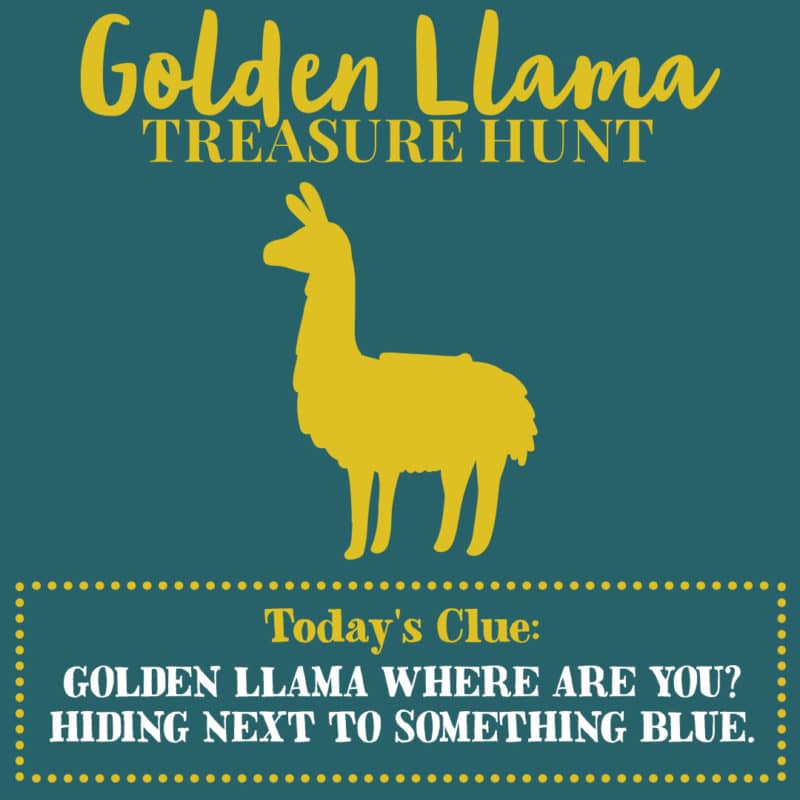 Oh my y'all, I love this. To play along, you can find a clue for each of the days at 10 am EST on my Facebook page, Little Figgy Food. Just keep checking and then make it into your local Cost Plus World Market to go treasure hunting and while you're there, you can find plenty of stocking stuffers, from an adorable Stuffed Llama to Llama Ornaments, and my new favorite coffee, the World Market Peruvian Llama Coffee!
Everyone at the Cost Plus World Market at Town Center in Kennesaw knows me all too well now, and it's where I found all of the things Llama to satisfy my new crush. To find a store nearest you, visit the store locator, and enjoy a bit of Golden Llama Treasure Hunt while you're there!
Shop My Favorites and #GiftThemJoy
World Market Peruvian Llama Coffee | Green Merry Llama Not Your Paper Cup | Save The Drama Latte Mug | Ceramic Llama Cookie Jar | Llama Pre-Baked Cookie Decorating Kit | Kids Llama Apron | Embroidered Llama Napkins | Jolly Hearts Mugs | Ivory Element Mugs | White Euro Ceramic Coffee Filter | Brass Collapsible Coffee Filter | Chemex 8-Cup Coffeemaker | Stainless Steel Coffee Stencils | White Chocolate Peppermint Coffee Stirrers
One of my favorite cool weather drinks I enjoy making with the Peruvian Llama Coffee, is this Steamy Creamy Mocha! For me it has all the boxes checked from the caffeine to cocoa, and not to mention, there's plenty of creaminess happening in your cup.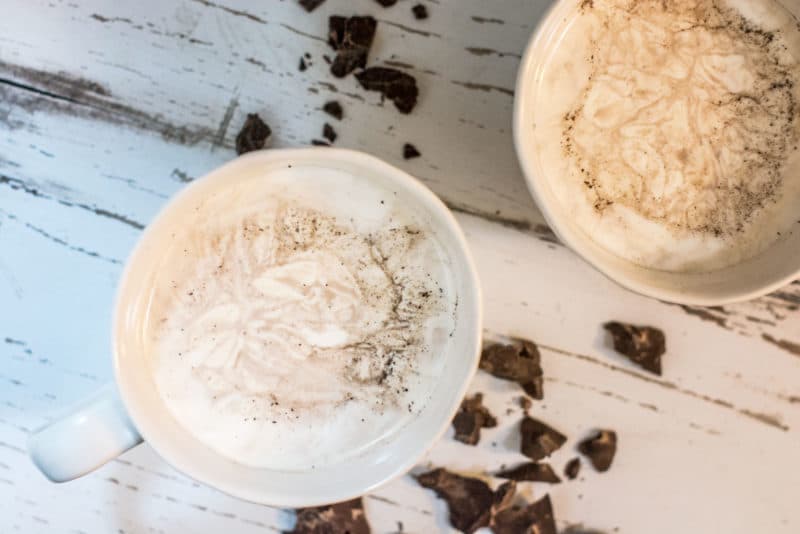 Stay Cozy Warm and Enjoy!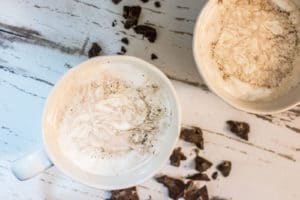 Print
Steamy Creamy Mocha
Yield 2
This is a deeply rich and warming coffee mocha, perfectly creamy and taste like "more".
Ingredients
2 cups Milk
2 Tbsp Cocoa (your favorite flavor)
2 Tbsp Brown Sugar
2 Tbsp ground Coffee
2 tsp Vanilla paste or extract
Half & Half
Instructions
In a medium saucepan over medium high heat, add all the ingredients, and whisk until steaming, about 5 - 8 minutes.
Using a fine mesh strainer, strain the Mocha and pour into 2 mugs. Top off with Half & Half, to taste. 
Enjoy!
Courses Drinks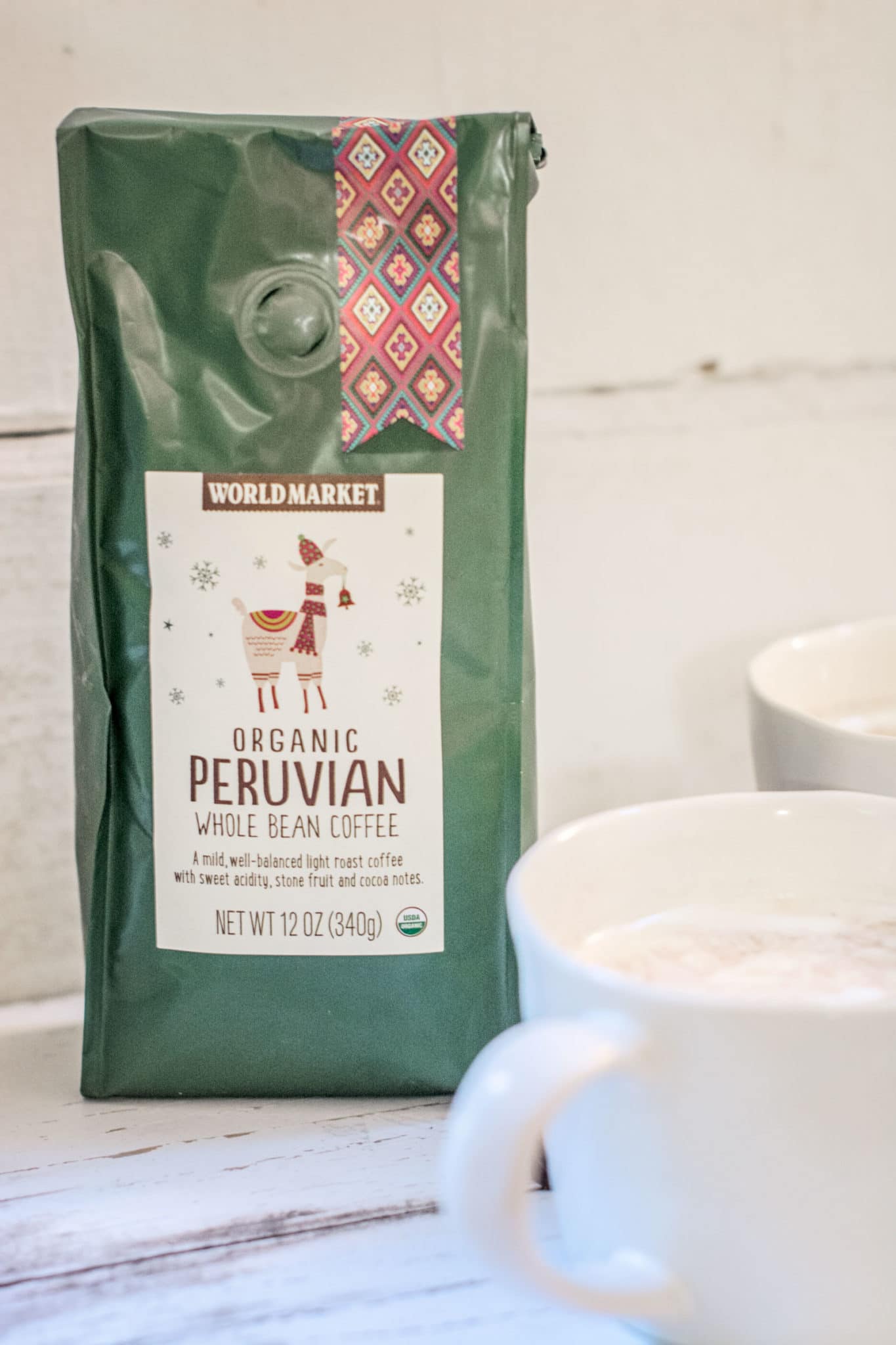 All the Best!