This post is in partnership with World Market, a brand I love. All opinions here are my own.
There are a great many reasons why I love the holiday season, from the time we have with friends and family to the decorations and glorious food! I'm also a big fan of having a bit of fun, and this year I plan on doing just that by playing along with Cost Plus World Market's Golden Bell Scavenger Hunt!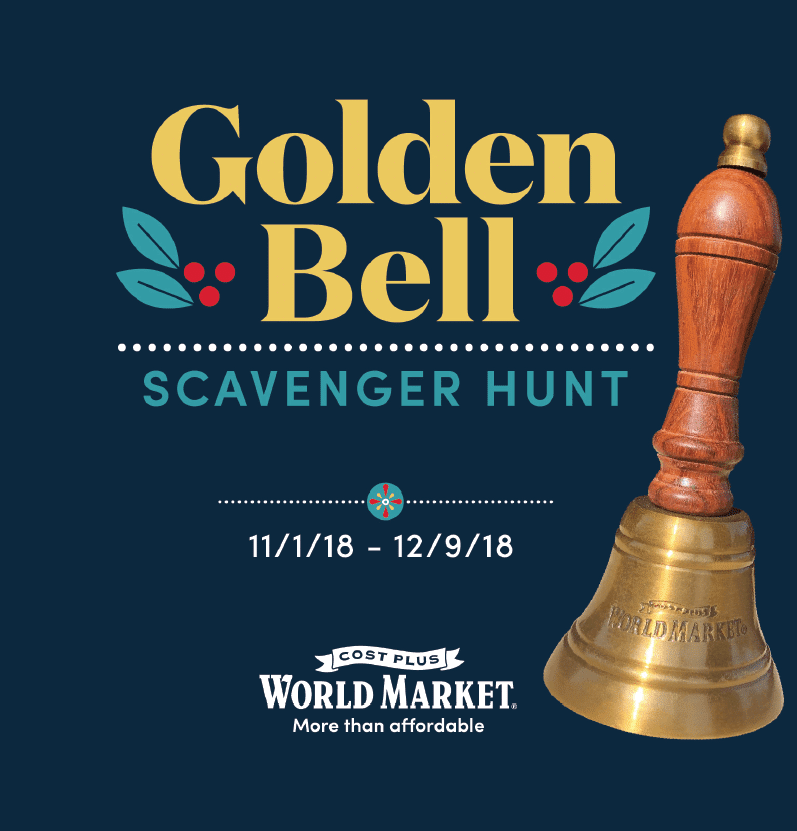 Who wouldn't enjoy finding treasure?
It's great fun and easy to play, all you need to do is walk in to your local Cost Plus World Market, and enjoy perusing all of the beautiful items they have. During your visit, if you find the Golden Bell, then you're a winner and will receive a reward of either $10, $20, $25 or you might even get the $50 reward. Just find the golden bell, then let the staff know and they'll take care of the rest for you. Easy peasy, and great fun!
While you're there, don't forget to take your Holiday shopping list with you, so that you can mark all of those gifts off your list!
What the Golden Bell Scavenger Hunt is all about:
Over $1.8 Million in Total Rewards.
Find a Golden Bell in your local store and you could receive a $10, $20, $25 or $50 reward!
Play in stores November 1 – December 9.
Game 1 (from the time of store opening to 3pm): There will be 4 Golden Bells hidden for you to find.
Game 2 (from 4pm untilstore closing): Another 4 Golden Bells will be hidden for the second game.
How to Play:
Every day beginning on Thursday, November 1st through Sunday, December 9th visit your local Cost Plus World Market
store to find one of the hidden 8 Golden Bell pieces throughout the store.
Each day, watch for the daily clue in store, via email, and on Cost Plus World Market's social media channels, or on my Twitter channel. Use the clue to try to find a Golden Bell piece and you could receive a reward.
Find one (1) Golden Bell piece, then bring it to the nearest store associate to exchange for a reward coupon worth
$10, $20, $25 or $50. Reward is valid only on the day it is awarded.
Limit one (1) reward per person throughout the Promotion Period (11/1/18 – 12/9/18, regardless of store location(s)
visited. EMPLOYEES and DESIGNATED SHOPPERS NOT ELIGIBLE.
See rules for details, click here.
To find a participating Cost Plus World Market near you, visit the store locator here.
So to here's my advice: Be in the parking lot of your local Cost Plus World Market, wait for my clue, I'll share it every day at 8 am (eastern) between November 1st until December 9th (2018), simply keep up with me on Twitter to see what the daily clue will be, then wait for the store to open and walk in with clue in hand!
Here's the first clue!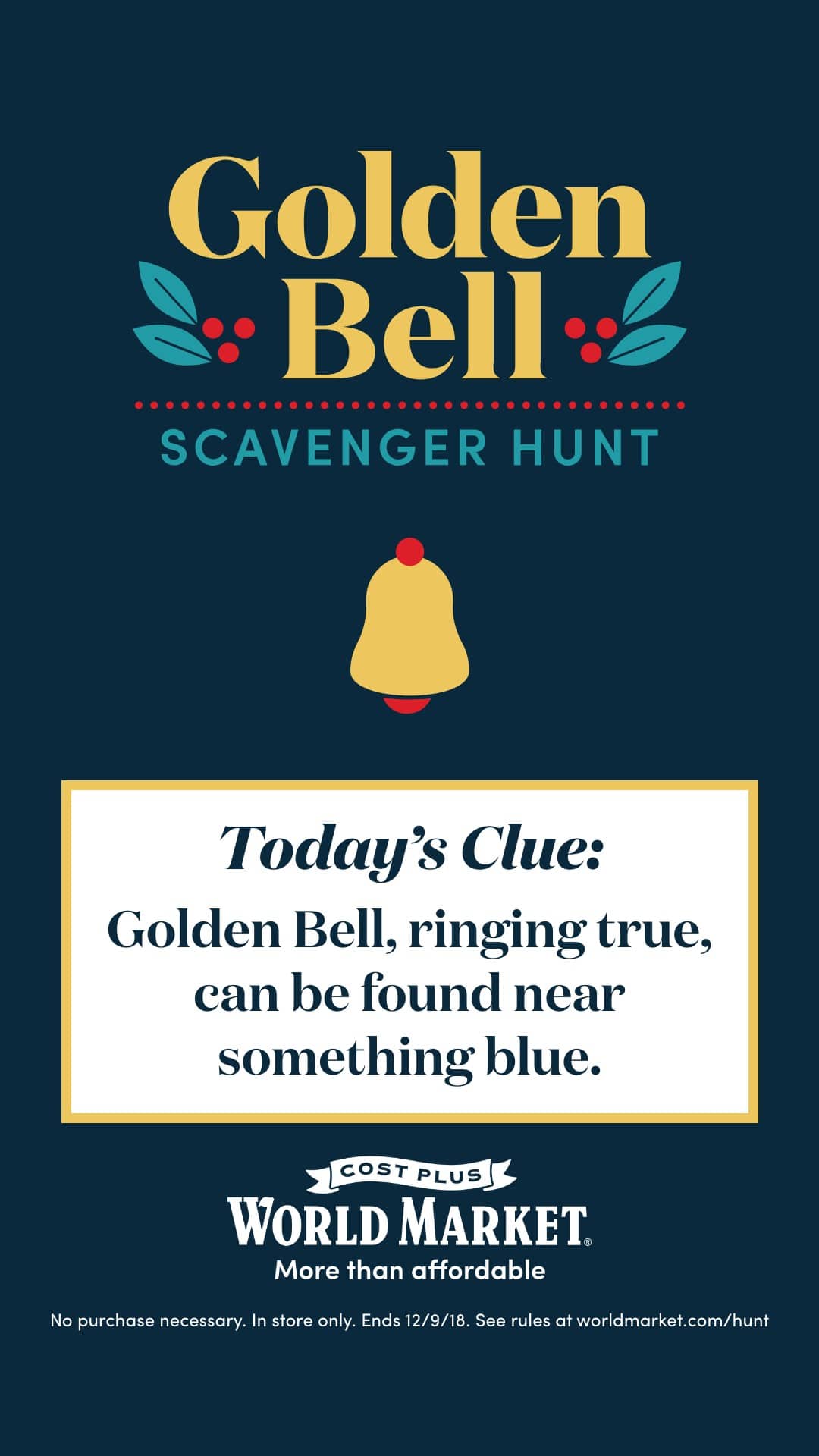 This year I've gone and found my own gold holiday treasures to inspire myself and get the festive creativity flowing. So I was thinking of what I needed to put a little pizzazz into my entertaining this winter and I've put together a nice little mood board to share with you.
Let's start my Golden Bell inspired list by repeating after me, 'bar cart'! Honestly, it's ideal, gorgeous and functional in every way. Plus it's perfect to serve guests from, or better yet, point them in said 'bar cart' direction to fend for themselves. Once the bar cart is settled in, it needs to be well stocked with certain essentials, such as a set of stunning glasses (I love the gold rim), bar tools, cocktail shaker, a selection of Torani syrups, festive napkins, a wine chiller, coasters, and of course mini chocolate gold bars to nibble on! It's simple, elegant, but not over the top, and I'm loving the white marble on that bar cart!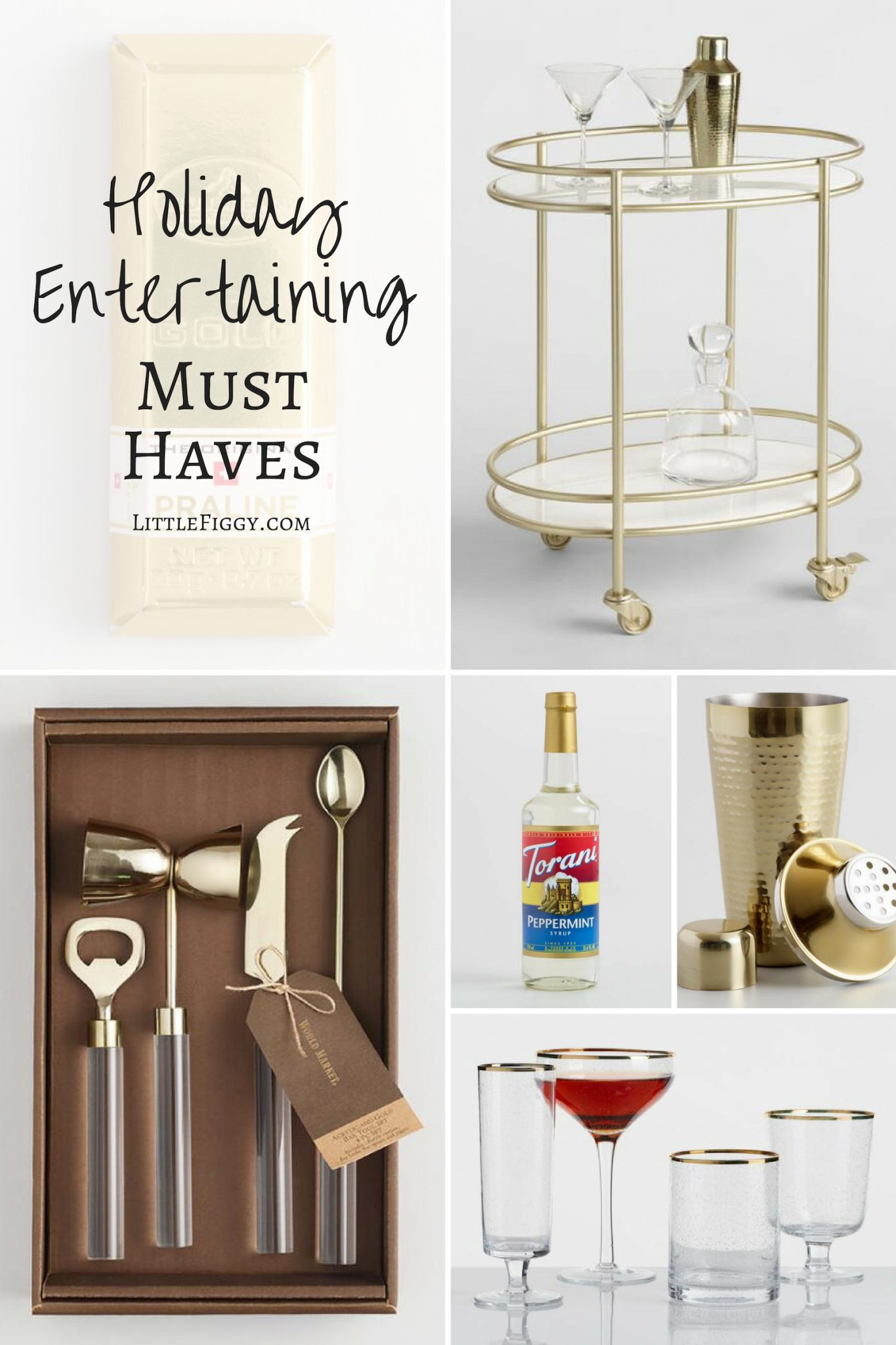 SHOP THIS POST
Bar Cart | Bar Tools | Bubble Gold Rim Glassware | Cocktail Shaker | Gold Embroidered Holiday Napkin | Marble Coasters | Marble Wine Chiller | Torani Syrups | Mini Chocolate Gold Bars
Don't forget to check out my Twitter page (@LittleFiggyFood) each day at 8am (eastern), from November 1 – December 9th, to see the daily clue for each days Golden Bell Scavenger Hunt at your local Cost Plus World Market!
Happy Holidays and enjoy the Golden Bell Scavenger Hunt!