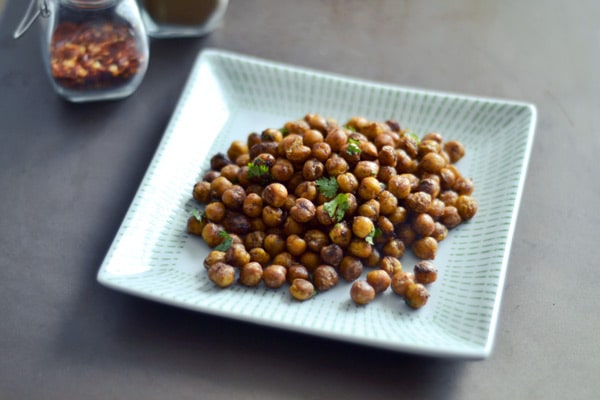 It's Hummus with a Crunch – Spiced Roasted Chickpeas.
Spicy? Yes. Roasted? Yes. Chickpeas? Yes.
The answers were a resounding Yes to all.
Which means, more please. These little fella's are addictive. There are so many different concoctions of spice blends when it comes to Roasted Chickpeas, that it can be hard to decide which direction to take.
My favorite blend is SPICY!
It is a no fuss, takes no time at all recipe. The kind of food, I love and enjoy making. My only complaint is that I don't make enough at a time, but that's probably best, since I find it hard to keep my paws out of them.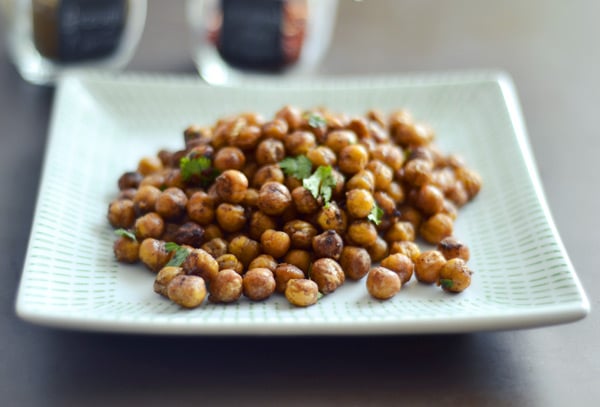 When I made these, my littlest guy wanted to try them, I kept telling him "no, they're hot". He insisted and so I finally found one that didn't have any red chilies flakes on it, and warned him it was hot. He bravely put it in his mouth, and looked at me with knitted brow and said, "HOT". I said "YES". He then proceeded to SPIT it out into my already present hand under his chin. I asked him if he wanted another one. He quickly replied with a definite "NO".
So if you have little ones, Roasted Chickpeas are a great snack for them, just make sure to make them kid friendly and tone it down on the spicy bit.
Did I mention they are actually, dare I say it – HEALTHY? Well they are and oh so yum, all at once.
ENJOY!
Spiced Roasted Chickpeas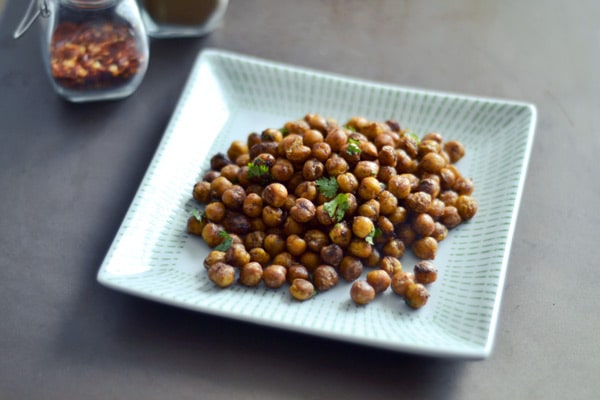 Hummus with a Crunch, Spiced Roasted Chickpeas. They are perfect for a quick appetizer or snack.
Ingredients
1 - 15 oz can Chickpeas, drained
1 tsp Ground Cumin
1½ tsp EVOO, extra virgin olive oil
½ tsp crushed red chili flakes
½ tsp sea salt
½ tsp ground pepper
1 Tbsp fresh Cilantro, chopped
Olive Oil or non-stick Cooking Spray
Instructions
Preheat your oven to 400 F.
Spray or rub your baking sheet with the Oil.
In a bowl, toss thoroughly together your drained Chickpeas with 1½ tsp EVOO, cumin, chili flakes, salt and pepper.
Spread mixture out on your baking sheet.
Bake your Chickpeas for 15 min. then turn or spread them around a bit and bake for an additional 15 min until golden.
Remove carefully from oven and let cool.
Just before serving and once they've cooled down, toss in the chopped Cilantro.
Serve. Best if eaten same day.
All the Best!